An announcement this morning from Riot Games announced the new League of Legends international tournaments known as Rift Rivals. Set for July 3rd through the 9th, these tournaments will take place all across the globe, pitting regions against some of their closest rivalries.
League of Legends Rift Rivals
Each Rift Rival tournament is a little bit different. All told, there will be 5 tournaments held across the world to include all 13 official esports regions participating in League of Legends. Until recently, the only time fans got to see their favorites participate in matches against teams from other regions were at Worlds and MSI, plus the odd IEM tournament (which will no longer include League of Legends, it turns out).
So that means Rift Rivals are a great way for fans to get an idea of how their teams stack up elsewhere in the world, as well as good experience for the participating teams themselves. There's also the narratives to be had across the globe, as the tournaments are specifically set up to stoke the flames of old rivalries.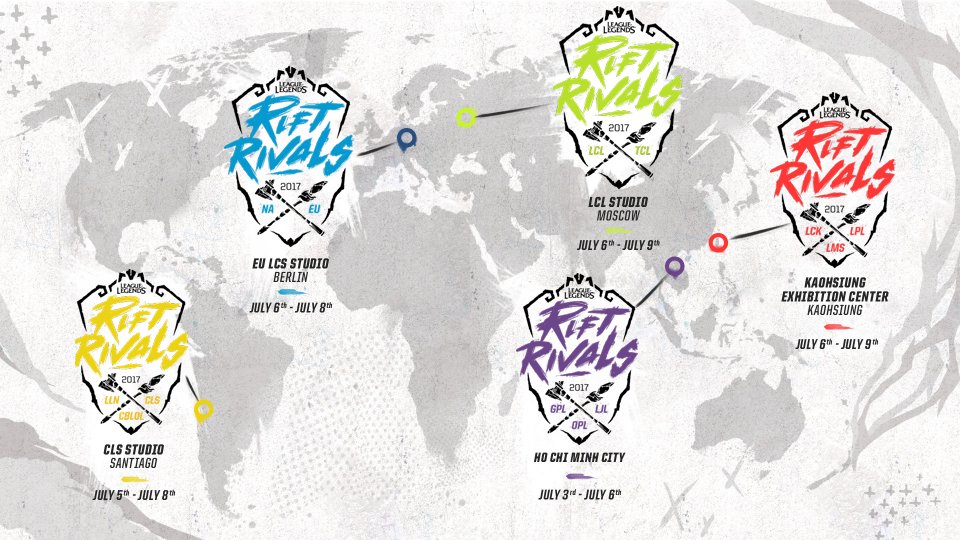 Some Rift Rivals tournaments are just two teams, such as NA against EU, and others are three teams, like the LCK, LMS, and LPL in Asia. That means formats will have to vary depending on the number of regions competing. But one of the steady factors throughout Rift Rivals is that participating teams will be the top performing groups from the last finished split in their region. That means Team SoloMid will soon get a shot at redemption against G2 Esports. Of course, they'll also be up against other big EU LCS teams like Unicorns of Love and Fnatic, and so will NA's Cloud9 and Phoenix1.
It looks like anybody that thought they'd have to wait until Worlds to see some more international League of Legends esports action will be pleasantly mistaken. For full details on the Rift Rivals tournaments for each region, check out Riot's official announcement on the matter.